Nubilop Acres Summers Hey Babe
AN2104435
(Click on Registration #)
G6s Normal by Parentage
LA: 2-04 V86(VVVV)




2 Year Old 1st Freshener
Sire: *B Woest-Hoeve Mr Martin
SS: +*B Sweet Springs Ralph Lauren
SD: SGCH Woest Hoeve Margaret 3*M

Dam: CH J&M Hideaway Midsummers Eve
DS: *B Woest-Hoeve Key To The Castle
DD: SGCH J&M Hideaway Farm Night Rose 2*M

DOB: April 06, 2020


I love the general appearance of Babe as well as her mammary system. At this time her udder is immature as a first freshening 2-year-old when compared to her herd mates but she definitely has the height to that rear udder as well as a very pretty, tight foreudder extension which several judges have made comments about. I do believe she is a sleeper and next year will be winning her classes. There is just one thing that bothers me a bit about her and that is the fact that she is an American Nubian. To some people it makes no difference but to other breeders it does. She will remain in our herd, however, as I love the potential this doe is revealing to me, American or not!


2022 Show Results
2 Year Old 1st Freshener



SW Missouri Dairy Goat Assoc, Neosho, MO
(Judges: TeCoa Stroda, Joshua Kaplewski, Greg Murphy, Karen Smith)
2nd of 16 - Ring 1
6th of 16 - Ring 2
2nd of 14 - Ring 3
1st of 14 - Ring 4

Flatwater Classic, Wahoo, NE
(Judges: Joe Pilotte& Jennifer Lohman Peterson)
6th of 10 - Ring 1
6th of 10 - Ring 2

Iowa State Fair, Des Moines, IA
(Judge: April Hitch)
3rd of 12

Nebraska State Fair, Grand Island, NE
(Judges: Tim Flickinger& Grace Toy)
5th of 8 in Ring 1
3rd of 8 in Ring 2

Kansas State Fair, Hutchinson, KS
(Judge: Will Keech)
2nd of 11



Cumulative Show Wins
2021 (Dry Yearling) – 2x 3rd



Breeding/Kidding info


Hey Babe's Photos...



Dry Yearling



Dam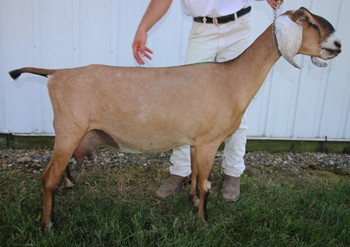 CH J&M Hideaway Midsummers Eve

Dam's Dam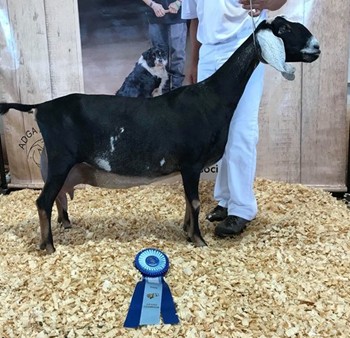 SGCH J&M Hideaway Farm Night Rose 2*M
LA: 3-03 E90 (VEEE)


(photo courtesy of J&M Hideaway Farm)

Sire's Dam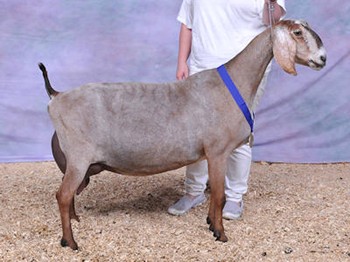 SGCH Woest Hoeve Margaret 3*M
6-03 Ex91 VVEE
4-03 Ex92 EEEE
"Elite"
2017 ADGA Natl. Grand Champion & Best Udder
2018 ADGA Natl. Res. Grand Champion
2018 ADGA Natl. Best Udder


Sire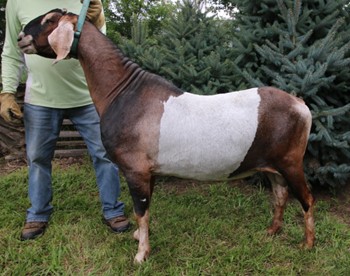 *B Woest-Hoeve Mr Martin