Nubilop Acres
2022 Herd Brochure


Dale and I have certainly enjoyed the shows we have attended in 2021 and the many friends we have been able to visit with. We pray we will have at least another couple years to enjoy our herd and the ability to continue getting out and showing them. We are very thankful for those who volunteered to help us at shows. You all do not know how much we appreciated it. As we continue to build a new herd after selling out five years ago, I feel we are back at the level we were when we sold our herd. We have many breeders to thank for that but it all began with the purchase of the 2016 ADGA Spotlight sale doeling, Woest-Hoeve M C Spittlebug. As you look through our website you will see those herds that are making a tremendous impact on the quality of our herd.

Our herd is tested annually for CAE and has been negative for as many years as I can remember. We are also free of abscesses. The G6S status of our herdsires and dams are either normal by testing or normal by parentage. We hope to get some DNA testing done in 2022 now that all G6S testing is complete.

Our kids are normally weaned at around three months of age and the use of toltrazuril is used in the prevention of coccidiosis. I find this the most effective method of coccidiosis prevention with it being relatively easy to use. The negative part of using toltrazuril is the rather expensive price tag on this product. The use of Lysigin and J-Vac for mastitis are used in our mature does along with Calvary 9 for different types of clostridium and tetanus.

TERMS OF SALE: If a kid is reserved prior to birth, the price is as stated on the "Kidding Schedule" page. However, we do reserve the right to modify pricing once the kids are born if they are not preordered prior to birth. A $100 deposit is requested for each kid ordered. The remaining balance is due before being shipped or picked up. We prefer to place kids in their new homes by four weeks of age, but are willing to make arrangements to hold a kid longer if necessary. Orders are accepted on a first requested basis. It is recommended you make a 1st and 2nd choice to better assure you end up with a kid in the event your 1st choice does not come through. There will be no refunds on cancelled orders. However, if we cannot fill your order or the kid does not meet our specifications, your deposit will be refunded or held until next year, whichever you choose. All health papers and shipping expenses are the responsibility of the buyer. We do reserve the right to retain any animal on our sales list.

Thank you to all who have purchased animals from us. We hope that they have become an important part of your herd.

Thank you,
Dale & Marilyn Stertz
Nubilop Acres
Hickman, Nebr.
E-Mail: nubilopacres @ gmail.com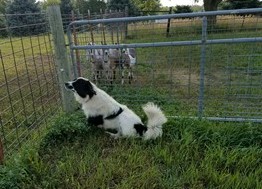 One of our guard dogs, Daisy, keeping watch!